Maximum processing power directly at the machine
TR-Electronic arm-mounted panel PCs are the perfect computer solution for countless applications in storage and logistics, in event and printing technology, in plastic, wood and paper processing as well as in renewable energies.
These compact industrial PCs combine robustness with high flexibility and processing power. Energy-saving Intel® Atom™ processors, pressure-sensitive, non-reflecting touch screen displays, exchangeable storage media (HDD hard disks, SSD, Compact Flash) as well as all necessary interfaces offer extensive configuration options.
Arm-mounted panel PCs can be built without a fan and are then maintenance-free. With IP54 class of protection they are optimally protected against splashing water and dust, and can also withstand harsh conditions without problem. And the optionally integrated battery ensures that no data is lost and that processes continue running in the event of voltage fluctuations.
All arm-mounted panel PCs from TRsystems at a glance:
VPC2 arm mountable panel PC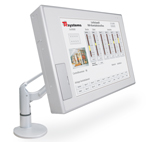 Features
with cooling element
with controlled fan
Display
TFT 304,8 mm (12″) – SVGA 800 x 600 px, XGA 1024 x 768 px, TFT 381 mm (15″) – XGA 1024 x 768 px, TFT 482,6 mm (19″) – SXGA 1280 x 1024 px
CPU processor
Intel® AtomTM
up to
Intel® Dual CoreTM
Intel® AtomTM
up to
Intel®  CoreTM 2Duo
RAM
up to 4 GByte
Interfaces
LAN, USB, COM, VGA / DVI, PS/2 (mouse / keyboard)
Enhanced: fieldbus onboard or over slots (PCI / ISA), integrated UPS
Frontsided: function key, track-ball, touch-pad
Possible drives
SATA Festplatte, SSD, RIAD1, CF-Card, CD / DVD-RW
Operating temperature
0 … +45 °C
0 … +50 °C
Power supply
24 VDC, 90 – 240 VAC
Protection class
Front: IP 65
Back: IP 20, optional IP 54
Front variation
Resistive with 8-wire touch system
Keyboard front
Interfaces accessable through the front side
Individual front design
Contact
For further information or specific requests, please don't hesitate to contact our TRS sales team.
Broschure
VPC219 – Support arm mountable panel PC

 pdf