Maximum processing power for cabinets and desks
TR-Electronic built-in panel PCs are especially suitable for use in standard switch cabinets, desks and control panels. They are available with heat sink or monitored fan and can be combined with displays between 12'' and 19'' – also as a touch screen, with membrane front and keyboard function as well as with individual front design.
The interior of the built-in panel PCs also fulfils all requirements: from energy-saving Intel® Atom™ to powerful Intel™ Core™ 2 Duo processors, all standard PC interfaces through to fieldbus interface – everything is possible.
All built-in panel PCs from TR-Electronic at a glance: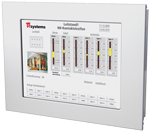 Features
with cooling element
with controlled fan
Display size/ resolution
TFT 304,8 mm (12″) – SVGA 800 x 600 px, XGA 1024 x 768 px, TFT 381 mm (15″) – XGA 1024 x 768 px, TFT 482,6 mm (19″) – SXGA 1280 x 1024 px
CPU processor
Intel® AtomTM
up to
Intel® Dual CoreTM
Intel® AtomTM
up to
Intel®  CoreTM 2Duo
RAM
up to 4 GByte
Graphic card
up to 2048 x 1536 px
Interfaces
LAN, USB 2.0, RS232, VGA, PS/2 (mouse/keypad)
Enhanced: CAN, PROFIBUS, RS232CF II adapter, audio, LPT1, USB2.0, LAN
Possible drives
SATA Festplatte, SSD, RIAD1, CF-Card, CD / DVD-RW
Operating temperature
0 … +45 °C
0 … +50 °C
Power supply
24 VDC, 90 – 240 VAC
Protection class
Front: IP 65
Back: IP 20, optional IP 54
Front variation
Resistive with 8-wire touch system
Keyboard front
Interfaces accessable through the front side
Individual front design
On request, we are sending you a detailed data sheet.
Contact
For further information or specific requests, please don't hesitate to contact our TRS sales team.
Broschure
Industrial PC – Catalogue

 pdf